Low-Level Radioactive Waste Forum, Inc.
Supporting a State and Regional Approach to a Complex Environmental Issue
---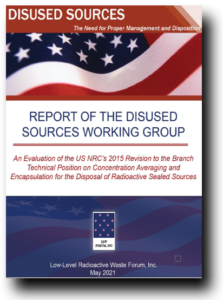 NEW: The US Department of Energy's National Nuclear Security Administration (NNSA) has asked the LLW Forum's Disused Sources Working Group (DSWG) to evaluate the impact that the US Nuclear Regulatory Commission's (NRC) 2015 revision to the Branch Technical Position (BTP) on Concentration Averaging and Encapsulation has had on the disposal of radioactive sealed sources. 
Click here to view the report.
---
In 1980, Congress passed the Low-Level Radioactive Waste Policy Act. This legislation gives states the responsibility to provide for disposal of commercial low-level radioactive waste and encourages states to form interstate agreements, or compacts, to cooperatively implement the law. The federal legislation of 1980, and the subsequent Low-Level Radioactive Waste Policy Amendments Act of 1985, were endorsed by the Governors of the 50 states.
Until 1985, representatives of the Governors worked to achieve the goals of the law through a committee of the National Governors' Association. After passage of the 1985 amendments, representatives of compacts and states established a separate organization, known as the Low-Level Radioactive Waste Forum, to promote the objectives of the federal law and the compacts.
In 2001, the Low-Level Radioactive Waste Forum became an independent nonprofit organization— the Low-Level Radioactive Waste Forum, Inc.
The LLW Forum, Inc. is pleased to offer memberships and subscriptions to its various written materials including newsletters, news flashes, summary report, meeting reports, contact list, and the closed portions of its web site. A complete listing of memberships and subscription rates and how they can be purchased can be found on the "About" page.